It's been almost two years since we've heard new music from Berlin's crafty trio,
, and their latest release, Components, has proven the wait to be well worth our time.
Let me preface this review by saying that the Components EP is not only an important record for mOck, the band from which it was conceived, but simply an important record in general. mOck is a strange sounding band to begin, oozing with originality. This EP takes some enormous steps in an interesting and mesmerizing direction, and it's a joy to listen to.
The previous, self-titled, album by the Berlin trio consisted of beautiful vocals and a plethora of looping riffs, repeating somewhat monotonously one after another. This formula was followed by most of the songs on the album. With this EP, they incorporate some of those elements – they still have those gorgeous vocals (and they are more refined now) – but the instrumentation is a lot more enjoyable. It's more than just loops, it's intricate patterns with frequent changes and dissonance. And, as stated before, it's not only wonderful for mOck and their listeners but for new, unfamiliar, audiences; there's nothing like this around. Components EP excels in everything the band's releases did not and is just plain awesome.

[http://www.math-rock.net/2014/02/21/mock-components-ep-review/]


americanaftermath.net

When barraged with heavy music daily, it's always nice to take a step back and chill out to something considerably less aggressive. mOck is a name that many of you haven't heard of and a name that I wish was brought to my attention sooner. mOck is a three piece math rock band that hails all the way from Berlin. I assigned them the "math rock" label, but that doesn't quite do the band justice as their new Components EP confirms. Components collects four new songs from the band and follows up their 2012 self-titled full length. mOck's music aggregates elements of jazz, math rock, post-rock and indie rock into a bright and colorful mixture. The music on Components is subdued, soft, delicate, and full of complexity at the same time. The songs burst with bright melodies that are conjured through riffing that cycles and changes without hesitation. The songs, especially evident in the opening track "Poitou", constantly shift rhythm and shape throughout. It's usually unlikely that you will hear the same section more than twice. Components often toys with jazz-like formulas and adds a healthy dose of math rock to the mix, as the track "Singh" showcases. The EP is brimming with quiet complexity. The instrumentation is brimming with virtuosity, but never in a showy manner. All the tight, intricately woven sections flow gracefully like a feather in the breeze. mOck also employ the use of equally soft vocals in certain spots throughout Components.  The vocals are far and in between, but when they appear they are used like another instrument in adding to the EP's atmosphere. When both the vocals and instrumentation are combined together, it calls to mind some beautiful mix of post-rock greats Tortoise and classic math-rock fueled emo outfit American Football. Well, to these ears at least. mOck's Components is a highly enjoyable relaxation session, albeit an unfortunately short one. I would recommend you lie back and let mOck's tunes envelop you. You won't be disappointed.

Knapp zwei Jahre schwammen mOck mit ihrem Debütalbum in meinem Kopf wild umher. Immer etwas versteckt. Aber sobald ich das Album in meiner Playlist wieder fand, hab ich es doch mit viel hin und her Bewegungen gefeiert. Schön!
Und nun legen uns die drei Berliner, mit ihrer Components EP ( Coraille Records), vier frisch gebrannte Stücke vor. Als hätte mOck eine große goldene Kiste voller Harmonie, in der sie rumwühlen, ein paar Fetzen rausholen und damit ein Puzzle voller Eindrücke zusammen basteln. Aber anders als auf ihrem ersten Album kommt es mir diesmal systematischer, runder und verspielt zugleich vor – alte Musikbanausen würden vielleicht ,,reifer" dazu sagen.
Die wirklich schön platzierten Gesangsparts lassen einen kurz die zerrissenen Takte, mit denen sie begleitet werden, vergessen. Doch bevor man träumen möchte, wirft einen die Abwechslung ihrer Musik wieder zurück auf den Boden. Mit etlichen Tempowechseln, einer Vielfalt genau gelegten, tight gespielten Dynamiken und einem Verständnis für die Gesamtheit, ist es nur angemessen, dass sie sich für dieses Album Zeit gelassen haben.
Nun stehen sie hier, mit neuen heißen Songs, einem Musikvideo zum Stück ,,Leiden,NL" und einer kleinen Deutschlandtour im April. Wir sagen: "Hallo und schön Euch wieder zu sehen". Oder mit den Worten der großartigen Fehlfarben – Es geht voran!
mOck ist ein Trio aus Berlin , das mit "Components" eine 10" auf dem kleinen, aber feinen Label Coraille aus dem Ruhrgebiet veröffentlicht. Das Coverfoto schreit schon nach Kunst oder Künstleratelier, zeigt es doch ein Regal mit lauter Komponenten zum Farbenmischen und Malen. Auch die Musik, die mOck auf "Components" präsentieren, passt bestens in ein Atelier oder eine Galerie. Ich stelle mir die Band sitzend und hochkonzentriert zu Werke gehend vor, während das Publikum – Rotwein schürfend – wissend, anerkennend und wohl auch bewundernd der Darbietung folgt, denn mOck wechseln gerne öfter die Rhythmen und Themen, als man die Takte auszählen kann. Der Klang, den Gitarre, Bass, Schlagzeug und Gesang dabei erzeugen, perlt zumeist glasklar in einer Art aus den Lautsprechern, die einen an Post-Rock à la The Sea & Cake mit nicht zu überhörendem Math-Touch denken lässt. Dabei entwickeln sie einen sehr eigentümlichen aber extrem souveränen Fluss, der vermutlich, so sehr ich das Format Vinyl auch schätze, seine volle Wirkung noch besser am Stück, ohne den formatbedingten Wechsel von A auf B, entfalten würde.
Die Rezeptur setzt sich aus den cleanen, zwar ruhigen aber hektischen Harmonien und Läufen der Gitarre, den treibenden und verschlungenen Schlagzeugbeats und dem alles verwebenden Bass zusammen. Gelegentlich schaut in den eher instrumental gehaltenen Kompositionen eine Stimme hervor, die sich als weiteres Instrument eher breit und sphärisch über die Songs legt.
Was dabei herauskommt ist zumindest eine sehr eigene Mixtur, die laut Bandinfo von Bands wie Karate oder Tortoise beeinflusst wurde. Für den großen Massenmarkt ist das sicher nichts, dafür ist die Musik von mOck zu sperrig und verlangt vom Hörer entweder, den Kopf abzuschalten und sich in den musikalischen Kosmos der Band hineinziehen zu lassen oder sich im Gegenteil ganz auf "Components" zu konzentrieren und analytisch dem Schaffen des Trios zu folgen. Anstrengend, wertvoll und eine Bereicherung für alle, die neue, einen herausfordernde Klänge mögen.
[http://borderlinefuckup.com/2014/04/13/ep-vierer-alliswell-creepozoidz-mock-sports-fans/]

mOck / Victor Villarreal split 7" (Joyful Noise Recordings / Coraille, 2012)
Durchdes Welt

Kleines feines Stück Vinyl zweier Bands, die sich gesucht und gefunden haben. Mock hatten scheinbar noch ein Stück aus ihrer Aufnahmesession ihre[r] Full Leng[th] über und zeigen sich bis dato von ihrer "rockigsten" Seite. Der chillige Indi[e] Math Sound der Berliner nimmt etwas mehr Fahrt auf als gewohnt und bietet ihre beste wenn auch eingängiste Nummer. Klingt ein wenig nach Monochrome auf Jazz und zeigt ein angenehm warmes organisches Soundgeflecht.
Die andere Seite belegt Victor Villarreal von der ehemaligen Emo Legende Cap'n Jazz.
Sein Song bietet einen ähnlichen Sound geht jedoch deutlich mehr nach vorne und besticht durch ein schönes male/female Duett. Eine sehr lebendige Sache mit frickligem Unterton. Welch unglaublich guter Gitarrist! Ich darf Victor Villarreal keinesfalls aus den Augen verlieren. Die 7inch kommt mit Download Code.
[
http://www.durchdeswelt.de/2012/12/28/irgendwie-unter-gegangenpt-3/
]
mOck:  s/t LP (Coraille / I Love To Hate Records) 2012


jerseybeat.com
Striving to appease a more sophisticated audience, Mock is a struggle at times for a simpleton like me. However, a record like this is not to be overanalyzed and dissected, but should rather be taken in as part of one extended sitting. Mock's self-tilted record is an eclectic, intricate mass of fascinating musicianship sprawled across a cinematic forty-five minutes. The songs arrive and hover gracefully with the instrumentals, all titled as a series of numerical ordered dots, representing the band's most pristine moments. For a band with its roots in hardcore, the nature of the work is astounding-the record has the fragility of porcelain yet much of Mock's playing simmers with the embers of post-punk energy. Just beneath the surface on "57" is a low rumble ready to explode. The song does not ultimately do so, but the tension created is a momentous achievement. Granted, some of the guitar noodling does become a bit repetitive, but Mock is fiercely committed to formulating music located miles away from the safety of the expected. The ingenuity on "Montreux", "Corners", and "Mind is a Pit of..." is unapologetically complex, with labyrinthian time sequences and convoluted structures. Mock is not an easy listen; this requires total focus and attention to detail; it is the musical equivalent of a highly demanding class-the work is challenging, and there are times when one wants to give up, but once completed, one is a better student and person. Mock speaks to the unconventional and this one will exhaust the listener, but give it a shot.
[
http://www.jerseybeat.com/quinlan-chronicles.html
]
berlinbeat.org
It's a musical fact of life that there are some bands that are simply better live than they come across on their recordings, and vice versa. Yet Berlin's mOck, a post-rock trio whose membership includes bassist and vocalist Frederik Knop, drummer Conrad Rodenberg, and guitarist Felix Zimmermann, is one of the bands that defies this otherwise universal truth.
Of course, this only recently became clear with the March 30 release of the band's first full-length. Although mOck played its first show more than three years ago, and has released a handful of splits in that time, the album serves as the premiere cohesive glimpse at the group for anyone who hasn't yet had the privilege of seeing mOck live.
And considering the way in which the album was recorded – live – it makes perfect sense that the recorded sound directly corresponds to that live experience, placing mOck squarely among the ranks of bands that somehow manage to be consistently consistent. This debut, unsurprisingly self-titled, boasts 16 tracks, of which six are more interludes than anything else, clocking in at no longer than a minute-and-a-half each. The remaining 10 form a solid albeit poetically conflicting impression in the mind of the listener of what the mOck sound is: angular yet chaotic, aimless yet precise, sonorous yet precious.
From the moment the first track begins, Zimmermann's guitar playing establishes itself as that which most prominently drives this music forward, with theme and variation-style riffs simultaneously proclaiming and ensconcing the band's trademark sound. Rodenberg's percussive stylings are hardly vanguardist, but the frantic embellishments and deliberate breaks throughout the songs create an edge of anticipation, with frequent polyrhythmic moments bringing juxtaposition to the forefront. And Knop's bass playing underlies it all, subtlety providing the music with a backbone, sometimes echoing the pattern of the guitar, and other times jutting up against its grain. But it's his vocals – effortlessly meandering in and out, under and above, the sound – which provide the melodic basis for many of these songs.
And it's there, in the melding of these elements, that one discovers mOck for what it is. The fundamentals of a jam band are there, yet mOck is clearly anything but. Still, on successive listens to the songs, it's easy to form a picture of how the interlocking textures in the music were somehow both accidentally yet deliberately pieced together. Not only that, but the stylistic influences in the mOck sound are overwhelmingly clear. Even songs like "An Hour from Now," "Montreux," or "Mind is a Pit of…" with their mid-point breakdowns (at 2:23, 3:48, and 2:23, respectively) are designed so that the listener knows what to expect but is still surprised when it arrives. This is math rock, after all, and mOck wants to let you in on the answer, but you have to do the calculations on your own.
All in all, there is a held-back sense of urgency permeating this album; it's the kind that makes you excited, although you don't quite know what about. It's a labyrinth of tonality, with something slight, yet disparate, hiding around every corner. It's a late summer afternoon, half-drunk, inadvertently lost in a looping, elaborate daydream.
[
http://berlinbeat.org/2012/05/25/mock-mock/
]
collective zine
This band has come out of nowhere for me. I had not heard anything about them prior to this release although they have released a demo and put out a couple of songs on split 7inches. mOck are a 3-piece from Berlin and they have sent in their debut LP complete with nice cover photo with some clever use of mirrors. They play some kind of mathy, indie, slightly jazzy post something-or-other with a strong 90s Midwestmo influence. A vague description indeed. Joan Of Arc appear to be a big influence. They set their stall out from the off with a twiddly guitar riff kicking things off and changing pace and time signatures in the opening track, "Time and Motion". These reoccur throughout the record but not at the expense of the songs. The vocals slot into the music nicely. The singer has quite a smooth, gentle voice - it's quite understated at times. I am reminded of Polaris in the intricate guitar work and frequent hammers on and off. The janglier bits really ring out. It also gets quite driven at times when they pick the pace up. There are 6 instrumentals interspersed between some of the tracks on the album. The sound is a bit more jazzmo and distorted on these tracks, sounding experimental at times as they play even more so with the time signatures. Those instrumentals are a bit of an oddity at times but intersperse some very good songs. I love the way that "57" threatens to fly off the handle as the vocals strain but keep it in check throughout - a stunning track. "vs. comodo" is another standout - a fast intro picks up the pace and the song develops with long build-ups, twists-and-turns and great vocals. They don't hit the heights on every track here but this is a most accomplished debut album and very much worth checking out.
[
http://www.collective-zine.co.uk/reviews/?id=8446
] 
intro
Songs wie Bruchrechenaufgaben. Krumme Zählertakte dividieren halbe Zählzeiten. Der größte gemeinsame Nenner der Songs dieses tollen Debüts ist der englischsprachige Gesang der alten Notwist-Schule.
Das Berliner Trio aus Bass, Gitarre, Schlagzeug macht diese Gesangslinien erfreulich oft zum Zentrum seines Mathrock, der dadurch eine schöne Dimension von Entspanntheit erreicht. Die Songs von mOck wirken, trotz Stolperrhythmik, schlüssiger als die vieler Kollegen, die sich ebenfalls für Tortoise und frühe Sinnbus-Bands begeistern. Der Sound des Albums könnte dabei trockener kaum sein. Nicht einmal ein Fitzelchen Hall scheint im Studio verwendet worden zu sein. »Rau« ist trotzdem das falsche Attribut für mOck, dafür geht das Trio viel zu verspielt zu Werke. Angenehme klangliche Abwechslung bieten die sechs instrumentalen Mini-Tracks des Albums, die mit netten Störgeräuschen und Rückwärts-Gitarren-Spuren für schräge Auflockerung sorgen.
Ein kantiges Debüt, das nach großer Spielfreude klingt und die zwangsläufigen Klischees des Genres galant umschifft. In drei Worten: Spielfreude / Mathrock / Stolperrhythmik
[
http://www.intro.de/platten/kritiken/23067617/mock-mock
]
Ox Fanzine # 101
Habe ich schon mehrfach erwähnt, dass die Jungs vom Label Coraille einen erlesenen Musikgeschmack haben? Nein? Dann tu ich das jetzt. Zusätzlich weiß man bei jeder neuen Veröffentlichung zumindest schon in groben Zügen, was einen erwartet: verschachtelten, frickeligen, intelligenten Indierock.
MOCK aus Berlin bilden da keine Ausnahme. Auf seinem Debütalbum vereint das Trio DC-Sound und Ähnlichkeiten mit Bands wie Q AND NOT U, DIANOGAH oder den Labelmates CARETTA CARETTA. Wenn man die Musik beschreiben möchte, dann handelt es sich um Songs, die auf wundersame Weise Entspannung mit einem aufgeregten Kribbeln versehen, ohne dass das ein Widerspruch ist. Die Rhythmen sind komplex, die Gitarren legen unaufgeregte, schräge Akkorde darüber oder wuseln sich zusammen mit dem Bass durch das, was das Schlagzeug an Raum lässt. Das ist alles andere als Musik zum Zurücklehnen, sondern eher zum Mitdenken. Dafür steckt sie voller Überraschungen und kompositorischen Wendungen, über die man am besten bei Zigarre und Whisky gepflegt sinniert und diskutiert. Ein schönes Debüt.
[
http://www.ox-fanzine.de/web/rev/80333/reviews.207.html
]
oliverarditi.com
Mathy rhythmic groupings and feel changes don't get in the way of mOck's involving textures and harmonies, but serve to drag the listener in, intriguing the ear and inviting a deciphering of their original and seemingly complete language. This is an album that asks you enter its world. Complex, textural arrangements are built up from crisp electric guitar, sharp, trebly bass and tight drumming, recorded with great clarity and separation. The creative approach is one that foregrounds performance values, with very little in the way of studio wizardry, or even obvious signal processing, although everything here is EQed and compressed to crystalline perfection; so although the music is forward looking, and devoid of technical grandstanding, it evinces an old school respect for the business of composing and articulating musical ideas. The detailed content of each song eschews stock phrases or any remotely generic approach to the organisation of musical materials, employing a sophisticated set of rhythmic transformations, and the precision with which the band nails these compositions is far more impressive than an unnecessary outbreak of guitar complications would have been. mOck is an album of uncompromising creativity and rigorous artistic integrity, but it's also a very listenable and appealing slab of contemporary rock music.
[
http://oliverarditi.com/2012/04/13/album-roundup-006/
]
402 Productions
Frederik Knop, Conrad Rodenberg, and Felix Zimmermann; the three men who together make up mOck, create an utterly refreshing and precisely focused brand of post-rock. If a scientist were to create this band in a laboratory, he/she would extract a pinch of bleak tonality from Slint along with their accurate musicianship. Stirring in some infrequent time signature changes and a knack for dry, systematic lyrics will yield this group.
This album operates like a well-oiled machine. Ten textbook post-rock numbers become interspersed with six short helpings of roughly recorded instrumental tape tracks to comprise mOck. Songs seem to move from one to another seamlessly, mostly in part to the aforementioned interludes that prevent more than two legitimate studio songs to be played subsequently. It's a small but thoughtful touch given to this record that separates it from conventionality, as you are not used to well-paced "interruption" between songs like this; as a result, it harbors great flow. Just imagine The Who Sell Out, but instead of fake commercials inserted randomly at the ends of tracks, they were replaced with dissonant, spacey grooves.
Another perfectly fitting attribute to this band is their execution and choice of vocals. Knop, the bassist and singer, is probably only heard for about thirty percent of this LP. When he does choose to sing, he lists off very repetitive and scientific lyrics. Romance is out the door. "All you are is controlled/drink the wine/spill the wine," Frederik drones concernedly and languidly towards the end of "Montreux". Every verse sung on mOck sounds as if it had been written by the robot character from Radiohead's "Fitter Happier," and fits snugly whenever it rears its head.
There is a slight downside to being so dour throughout an album that clocks in at about thirteen minutes shy of an hour. Listening from start to finish won't present an obvious rift, but by suggestion, it would have been really nice to see a song or two in the major key. This isn't to say that every song dwells in a zone of morbidity, but even tunes that teeter on the line of slight glee are bogged down emotionally by an air of mystery, like "Time And Motion" and "57″. The inclusion of a feel-good track would have bumped this release up from being incredibly good to flawless.
mOck are an excellent find. They are mandatory ear candy for those who are fans of Slint and Pinback. mOck is one of those good, old-fashioned awesomely impressive debut works. It balances math and post-rock superbly and has that sheen, fresh, new car smell. For a year that has been pretty barren as far as noteworthy music is involved, these guys have proved otherwise, which is why they have earned a nomination for album of the year.
[
http://402productions.com/reviews/2012/04/album-reviews-mock-mock/
]
Built on a Weak Spot
Up until this point Berlin's mOck has only had brief appearances on some split 7-inches, which is where I initially heard them. In particular their track on the split they did with the now defunct Rapid Cities. At the time it didn't seem clear as to what the and were attempting with a five minute sprawling song that jumped between a more standard type of post-hardcore and the smooth jazzy influenced math-rock that they seemed to turn on at the press of a button. Confusing? A bit. Interesting? Somewhat. Thankfully they have this debut full-length to kind of clear things up and allow me to dig into them a bit more.
It's obvious from the first listen of this LP that the track I heard on that aforementioned split wasn't necessarily the best representation of the band. Likely an attempt to get the most out of a full side of a split. Can't really blame them for that. This record, being handled by Coraille overseas and I Love to Hate Records here in the states, is a much more refined and focused attempt at what I believe this band ultimately is trying to capture. It's apparent from just taking a look at the associations that mOck have as to just what that is. Having toured with the likes of Joan of Arc and even going so far as to do a split with Victor Villareal. Then you take a look as to who mixed the record and it happens to be John McEntire of Tortoise & Sea and Cake. That right there gives a pretty fair picture as to what mOck are kind of about. A nice melding of sounds that drift along in an ultra pleasant way, to the point where you hardly even notice the interjections of the equally smooth and dulcet vocals. It's a familiar sound, but one that kind of edges itself away from the mathy and overly feel good twinkle of many many current and insufferable "emo" revivalists. And more power to them for doing so, as mOck seem to lock down a sound that is equal parts throw back indie-rock as it is some of the 90's heyday of post-rock before it became the bombastic mess that it is now. The interludes between some of the actual songs are a nice touch on here as well, breaking up the crystal clear clarity with some snippets that sound more like practice space outtakes and some random noodling. Good record from these guys, and probably a bit more than I was actually expecting.
[
http://builtonaweakspot.com/post/23123539523/mock-mock-lp
]
Durchdes Welt

Lange hat es gedauert bis das Debüt der Berliner Indi Kombo im Kasten war und in diesem Jahr erscheinen konnte. Ihr leicht verschobener jazzige Indirock gespickt mit Easy Listening Feeling erweist sich auf der Debüt Full Lenght leider als kleine Mogelpackung Von den 16 enthaltenden der Band Karate nicht unähnlichen Songs, sind sechs von ihnen nicht mehr als experimentelle instrumentale Zwischenspieler. Zwei weitere Tracks waren schon auf der -Back to the Future- CDR zu hören. Dennoch bieten mOck erneut einen spannenden, gefühlsbetonten, rockigen und chilligen Sound zugleich. -Musik fürs anspruchsvollerer Publikum, welches sich gerne abends mit guter Musik gemütlich machen will. Das Coverartwork ist ebenso ausgeklügelt wie ihr Sound und anbei gibt es einen mp3 Download Code.
[
http://www.durchdeswelt.de/2012/08/15/irgendwie-unter-gegangenpt-2/
] 
mOck / Rapid Cities split 7" (Asymmetrie / I Love To Hate Records) 2010

jerseybeat.com

Why is the world not singing the praises and celebrating the obvious brilliance of Rapid Cities? This act was born too late, for they would have defined the Dischord roster in the 90's. Pointless nostalgia aside, these guys are amazing and need to be heard. "Techno After Party" has a moody, start/stop aesthetic which is soaring in terms of beauty and intensity. The guitar work is pristine, the vocals and powerful, and the rhythm section is flawless. This was so good, even my cat sat down and listened. Find this immediately and make these guys rock stars.
Germany's Mock is a bit tougher to grasp than RC. Their song structure on "Count and Release' is more complex and angular, making it both fascinating and frustrating. Therefore, it does what good art is supposed to do, which is confound and engage, and the deliberate vocal style and challenging guitar riff will do just that. Mock finds a disjointed quality within their harmonies, but the convoluted nature of "Count and Release" goes on for too long. There is a great idea in the center of this song; it just requires a great amount of work to enjoy it.

[http://www.jerseybeat.com/quinlan-chronicles.html]


7inches.blogspot.com

This single from Love/Hate Records, like the split with Tragwag from yesterday also has a Brickmower connection. Those guys get around, actually just noticed they're in Brooklyn, Nov 4th. Might just have been a coincidence, but I'm pretty sure that's how this ended up in the 7Inches mailbox. This split single is from rapid cities and mOck, Rapid Cities just finished a tour with mOck and they must have played with Brickmower at some point being from New Brunswick, N.J.....N.J. could use more of this polished post-hardcore sound. There's nothing wrong with a great melodic complex foundation, you can be just as angry. Then there's the title, "Techno After Party?", uh oh. But no, the insert card actually has the lyrics, which completely explained this and added another level to the track. Frustration over a shared bill with people dancing to techno. I get it, I could see this...what kind of scenes exist anymore? Is it all just a mess of genre smashing? or You'll dance to anything?. I like the idea that all of these things could come together and be appreciated on some level....not like Judgement Night, but that there could be a mixed show of guys all working in interesting ways that cross over more subtly. Enough to be appreciated by the other group of dudes there to see it. That's what's great about the Fucking Champs, and even Ween, their audience is all over the place. But after playing a show to a disinterested crowd and they started raving out...it would be make me throw my hands up. At least that's what I'm getting out of this...it's pretty abstract in that great way. Sunny Day Real Estate lyrics. I'm also not going to say it's like Fugazi, that's obviously too easy..and aren't there any other bands working in this melodic heavy way with understandable vocals? Complex changes where rhtyhms are forced to fit together, almost to see if this is really going to work. It's well thought out, playing on the classic elements of the genre, intricate distortion, off rhythm, unnatural changes. The quiet breakdown, overlapping melody, repetitive vocals over the crunk, crunk of muted chords, that understated buried yell. The mOck side, from Germany, are pushing this sound as well, testing the complexity of the pieces. I think this math, post hardcore sound is always going to work for me. I feel smart...at least these guys are busting their ass, rehearsing, playing with the rhythm structure. I have to put it on another level immediately. I just wonder with a band like this...it reminds me of the Sailors or Bronze situation...they must be a little isolated and have to play with those terrible pointless split bills as well?....but maybe I'm just thinking about that because of Rapid Cities. They break off into instrumental sections with lots of what has to be fret tapping, it almost feels proggy even. The vocals are even more abstract in this one, but that's to be a little expected.Solid, interesting, smart post punk rock....And it's $4???!!!! On clear blue vinyl from Love/Hate Records. Wait...who hates records?
[
http://7inches.blogspot.de/2010/10/rapid-cities-mock-split-on-lovehate.html
]
thenewscheme.com
Having listened to Rapid Cities since their first demo, it has been great to watch them progress toward the sound they achieved here. Rapid Cities played D.C. influenced post-hardcore and always put on a phenomenal show regardless of the size of the venue. They parted ways shortly after this release, and after hearing "Techno After Party," it was evident everything was coming together and they easily would have been one of the best bands playing this style right now. mOck is a band from Berlin, Germany that draw comparisons to North of America and Karate and I desperately wish they would put out a full-length. I played this split to death over the last half of 2010 and watching these bands perform together was one of the most awe-inspiring shows I have seen.
[
http://www.thenewscheme.com/new/news/4
]



Maximum Rock N Roll

First up we have one song from MOCK, a band from Berlin, Germany.  This reminds me of some of the more recent offerings from Dischord.  It's a bit on the slow side, the vocals are a bit drab, but the song takes some twist and turns, such that at almost six minutes long, it doesn't get stale.  RAPID CITIES is from New Brunswick, New Jersey and contributes two songs, though one is a short instrumental.  I think they would fit nicely on the No Idea roster of bands alongside TWELVE HOUR TURN and STRIKEFORCE DIABLEO - a little melody, a little dissonance, with sung/spoken vocals.  RAPID CITIES has released an LP and I plan to search it out.  Blue vinyl. (MD)

[Maximum Rock N Roll Nr. 331]


Durchdes Welt

Hmm, jetzt sitze ich schon 10 Minuten vor dem Cover der mOck & Rapid Cities Split 7inch und versuche eine evtl. Kernaussage aus dem Gekritzel zu interpretieren. Zu einer Antwort bin ich dennoch nicht gekommen. Die abstrakte Note passt allerdings prima zu mOck aus Berlin, welche mich schon seit dem voran gegangenen Split mit We fade to gray zu begeistern wussten. "Count and Release" heißt ihr Beitrag auf dem 500 Stück limitierten blauen Vinyl. Ich bin erstaunt wie Präzise man in der limitierten Spielzeit einer Single in einem Song soviel Stimmung rüber bringen kann, wie es andere Kapellen nicht auf einem Longplayer schaffen. Knappe 6 Minuten wird hier eine Exkursion durch diverse Post Indi Bereiche mit Math Rock Ausflügen geboten. Man nimmt sich ausreichend Zeit für den Stimmungsaufbau und entgeht gekonnt möglichen Überfrachtungen. Zwischendurch hört man etwas alte Karate und ein wenig Fugazi von Seiten der feinen Bassbetonungen. Klingt äußerst anspruchsvoll und spielt mit der Liebe zum Detail.

mOck präsentiert Musik zum zurück lehnen, um diese gedanklich zu sezieren. Rapid Cities aus New Jersey bieten melodisch angehauchten rockigen emotionalen Hardcore, breakreich und eigenwillig. Auch wenn ihr Beitrag "Techno after Party" und das instrumentale Follow Up "After after Party" nicht zu 100 % meinem Geschmack entspricht, klingt deren Sound dennoch besonders und hebt sich deutlich vom Einheitsbrei der Releasefluten ab. Besonders zu gefallen weis der ausdrucksstarke Gesang der gefühlsbetont jedoch niemals weinerlich klingt. Der Song entwickelt sich zum Ende hin in eine experimentellere Richtung als erwartet. Für die ein oder andere Überraschung gut….
[http://www.durchdeswelt.de/2010/12/20/mock-rapid-cities-split-7inch/]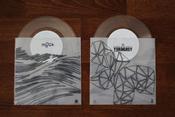 mOck / ...We Fade To Grey split 7" (Asymmetrie / Time As A Color) 2010

borderlinefuckup.wordpress.com

Zwei relativ frische und unbekannte Bands aus Deutschland geben sich auf dieser 7inch die Ehre. Beginnen dürfen mOck aus Berlin. Abgesehen von der Demo ist das hier ihr erster "richtiger" Release. Und was soll man sagen? mOck dürften all jenen gefallen die auf Bands wie Shokei, The Falcon Five, Solemn League oder Kids Explode stehen. Reduzierte, melodische Passagen treffen auf Post-Punk-Ryhtmik und minimalistische Jams – der typische Sprechgesang darf ebenso wenig fehlen wie diese leicht schluderige Herangehensweise. Die Jungs haben sowohl Shellac als auch Cap'n Jazz gehört. Wirklich sympathisch, das. Wer auf sowas steht, sollte die Berliner unbedingt antesten. Etwas komisch fand ich nur das Ende ihrer Seite, da diese bei mir etwas zu abrupt endet – so als ob man die letzten drei Sekunden des Songs weggeschnitten hätte. Auf der anderen Seite haben wir …we fade to grey aus München, die schon etwas länger dabei sind. Stilistisch war nicht zu erwarten, dass …we fade to grey großartig von ihren Kollegen abweichen. Das tun sie auch nicht. Auch sie berufen sich auf ähnliche Referenzen, klingen dabei aber um einiges melodiöser und besitzen viel mehr Einflüsse von angeschrägtem Midwest-Emo. Und so erinnert das auch gerne mal an Algernon Cadwallader, What Price Wonderland? und Snowing. Wo der mOck-Song etwas zersetzt und disharmonisch wirkt, da fließt ihr "Diamonds" wunderbar dahin. Schnelle, treibende Parts wechseln sich gleichermaßen ab mit eher langsamen Parts. Hinzu kommt der wunderbar melodische Gesang, der gerne mal von ner zweiten Stimme unterstützt wird. Richtig schön zum Mitsingen geeignet! Ganz tolle Band, ganz toller Song. Während man mOck also im Auge behalten sollte, sollte man schleunigst alles vorhandene Material von …we fade to grey aufsaugen. Die anderen Songs auf ihrem Myspace treten auch Ärsche! Dieser Split hat mir klar gemacht, dass ich mir von diesem Math-Post-Emo-Punk-Zeug definitiv zu wenig reinziehe. Danke fürs (Augen) Ohren öffnen!
[http://borderlinefuckup.wordpress.com/2010/07/08/mock-we-fade-to-grey-split-7inch-asymmetrietime-as-a-color/]
Durchdes Welt

Schon alleine die hübsche Aufmachung der Split mit mOck und We fade to grey gerechtfertigt den Kauf des auf 330 Stück limitierten 7incher. Durchsichtiges Vinyl und abstraktes Coverartwork auf durchscheinendem Papier zeichnen eine gewisse Extravaganz aus. Künstlerisch und leicht verschoben beginnen mOck aus Berlin, die ebenfalls eine Split mit Rapid Cities auf Asymmetrie veröffentlicht haben. Experimentell und etwas getragen/verträumt klingen die ersten Akkorde. Nach einer Weile wechselt der Track in einen Drumbeat betonten Part, der mich dort an einen Mix aus Fugazi und Karate erinnert. Alles sitzt am richtigen Platz, Einfallsreichtum und Stimmungsaufbau laden zu einem spannenden Genuss ein …. Auf der zweite Seite der Flipside toben sich We Fade to Grey aus München und Bremen aus. Musikalisch verschlägt es sich vom Kern her in eine ähnliche Indi Post Emo Sparte wie bei mOck, sie gehen die Sache jedoch rockiger an. Der Track "Diamonds" beginnt sanft/verspielt, und erinnert ebenfalls an Karate zu deren Anfangstagen. Nach dem Einspieler verschlägt sich der Sound zum Refrain in ein Monochrome nicht unähnliches Fahrwasser. Dazu gibt es rockig/melodischen Emopunk. Sehr abwechslungsreich und ich sollte mir nun unbedingt auch die Split mit Fluten besorgen…
[http://www.durchdeswelt.de/2010/12/16/mock-we-fade-to-gray-split-7inch/]

mOck: "back to the futr" demo - mini cd / tape (froggi records / self released) 2009

Durchdes Welt

Noch einmal vielen Dank an dieser Stelle ans Hause Asymmetrie fürs Empfehlen von
mOck. Seit den beiden erschienenden Split 7inchern der Berlinern bin ich völlig hin und weg von deren spannendem Indi/Math Rock. Natürlich musste ich mir nun auch deren Debüt besorgen, welches 2009 in Form einer Mini CDR erschienen ist. 4 Songs plus ein instrumentales Stück finden sich auf der digitalen Konserve, welche in einer schicken selbst gebastelten Hülle steckt.
mOck klingen auf ihrem Erstling rauer, was an der etwas schlichteren Produktion liegen kann. Jeder Song steht für sich und bietet zahlreiche Überraschungen. Von Math Rock über hypnotisch anmutende Parts bis hin zu Indi Einflüssen und auch ein gewisser Easy Listening Chill Out Flair ist erkennbar. Dürfte Freunden der ersten Karate Platten Freudetränen ins Gesicht zaubern.
Mit das Beste was ich in den letzten Monaten in den Finger bekommen habe!

[http://www.durchdeswelt.de/2011/02/19/mock-%E2%80%93-back-to-the-futur/]